Måndag! Och inte vilken måndag som helst, första dagen på Elie Saab. Mer om det framöver. Det jag nu tänkte uppdatera er om är att det blir ändring på måndagsinläggen. Även om jag gillar mina måndagspeppinlägg så känns det lite urvattnat. Jag gillar ju att ge er tips och länkar, men jag vill göra det mer personligt istället. Och roligare! Det har blivit lite mycket antistress- och depplänkar den här våren, vilket givetvis är superviktigt men det är ju inte en psykisk hälsa-blogg jag vill driva. Det finns det mycket kunnigare människor som gör. Mode och design är ju faktiskt det jag andas och lever för. Så istället tänker jag göra om måndagspepp till måndagsinspiration! Vad som inspirerar mig just nu, och som samtidigt flätar in vad som ska komma skall under veckan för min del. Låt mig få presentera:
The Weekly Inspiration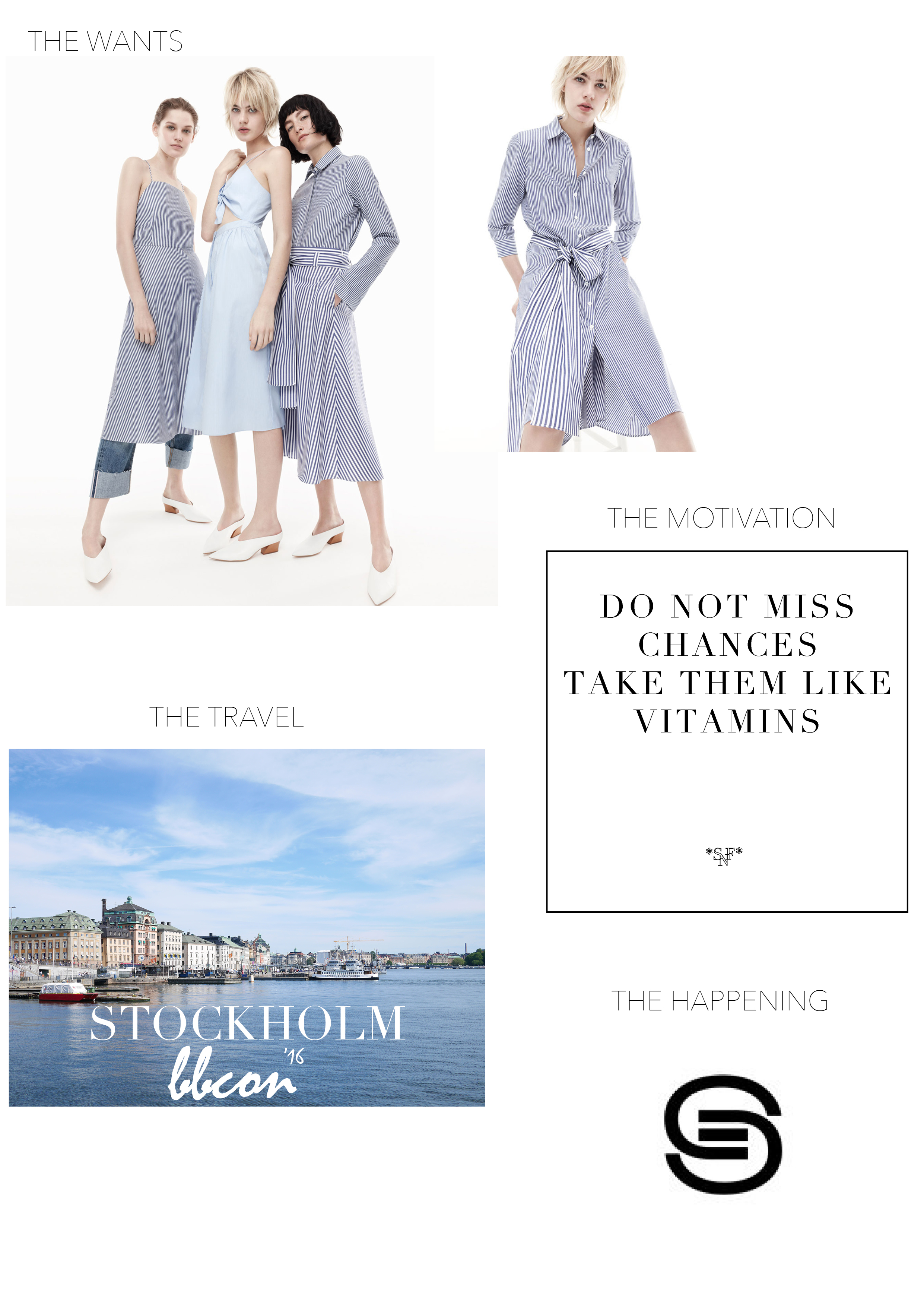 The Wants
Zara tolkar Célines resortränder och duttar dit lite Joseph och ingen är mer hooked än jag. Jo, det kanske finns fler som är hooked än jag, pinterest och instagram har fullständigt exploderat med gals som gör sina egna skjorttolkningar under våren. Jag tänker införskaffa mig en avlagd stor randig och knyta loss, precis som tjejen i den här videon.
Zara copies Céline with a touch of Joseph and no one's as hooked as I am… Or wait, maybe they are – pinterest and instagram is full of girls styling the classic striped man's shirt in new ways. I'm gonna do the same, and maybe take some inspiration from this video?
The Motivation
Veckans motivation för min del sammanfaller en hel del med The happening: min praktik på Elie Saab sparkar igång. Som det är sagt, dags att ta varenda chans jag får att visa vad jag går för!
This week's motivation is linked with The happening of the week: my internship at Elie Saab. Time to grab all the chances I can to show them my skills!
The Happening
Elie Saab, here I come! Lovar att fota så mycket jag kan (och får) från min praktik där!
Elie Saab here I come! I promise I'll tell you and take a few (if allowed) snaps of my interning there!
The Travels
Sist men inte minst den här veckan åker jag till Stockholm! Nytta med nöja ska förenas och BBCON ska gästas. BBCON är alltså Sveriges första bloggkonferens för bloggare och där ska det sugas upp så mycket inspiration och information det bara går. Sen ska vi också njuta av Stockholm i vårväder (får man önska sig sol?), bo på ett trevligt hotell och hänga med fina vänner också så klart!
Last but not least, at the end of the week I'm flying to Stockholm! For both business and pleasure actually, I'm attending Sweden's first conference for bloggers about blogging – so I'm gonna soak up as much knowledge and inspiration as possible. We're also going to enjoy the city (in sunshine if we're lucky), stay at a nice hotel and hang out with loved friends! 
So just a heads up to my English speaking friends: monday pep & motivation has a slightly new look. I'm no longer going to throw a bunch of links to you, since a lot of you actually don't click on them. Instead I'm going to give you my weekly inspiration and what's on the schedule in my life. Of course I'll give you useful links here and there, don't worry! Do you think this is a really great/bad idea? Let me know in the comments!