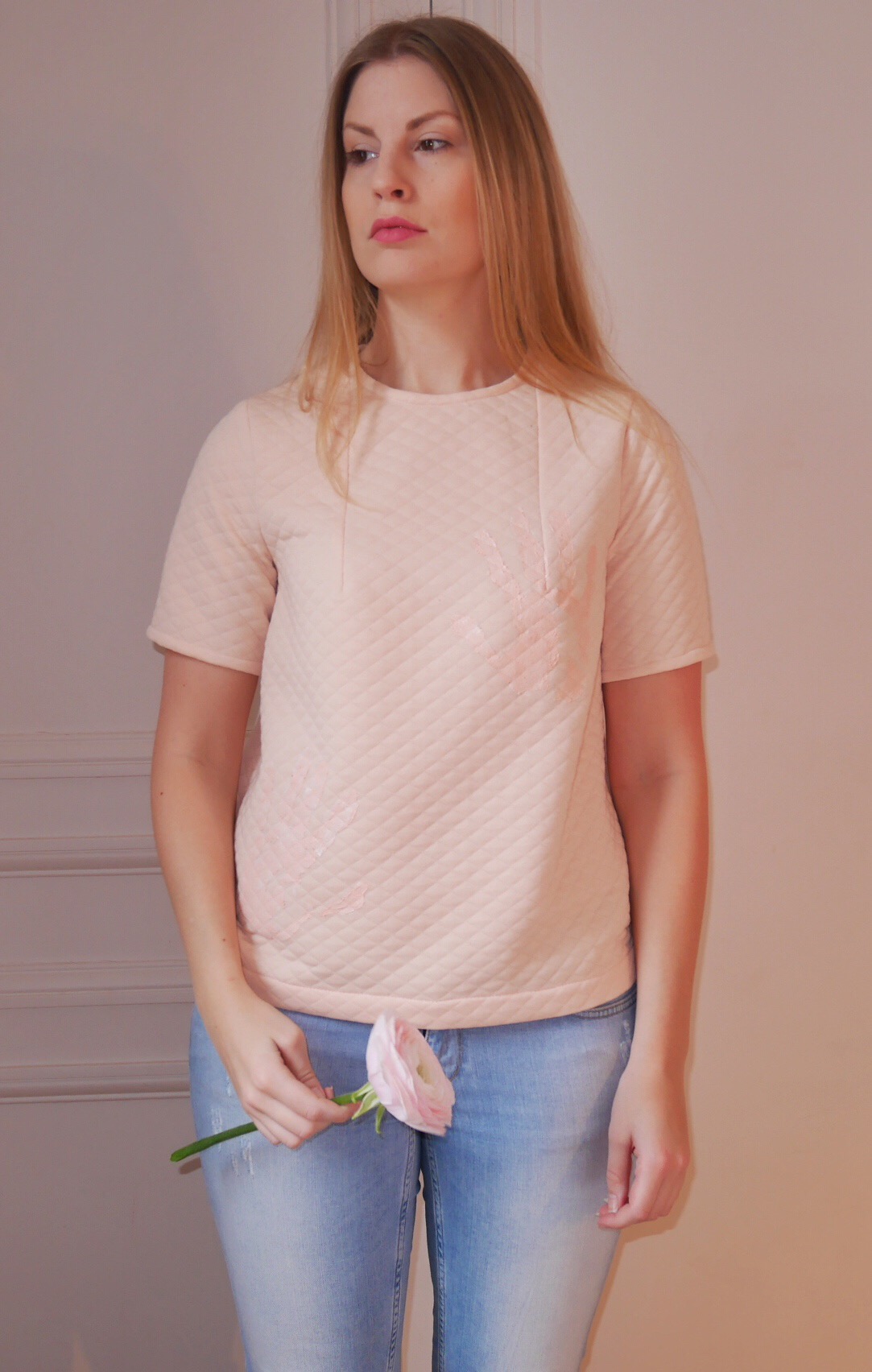 Mitt bidrag för Monthly Makers avtryck.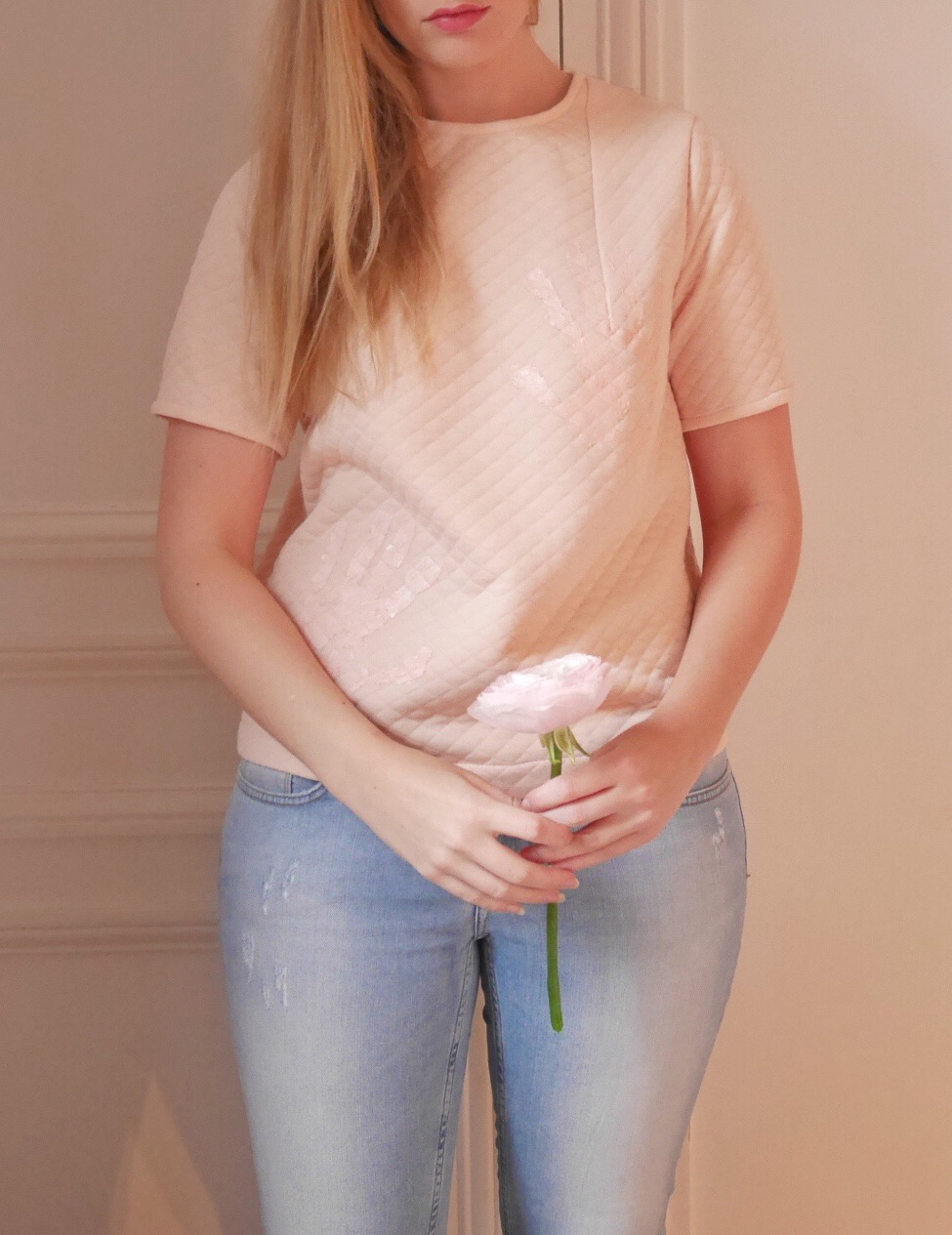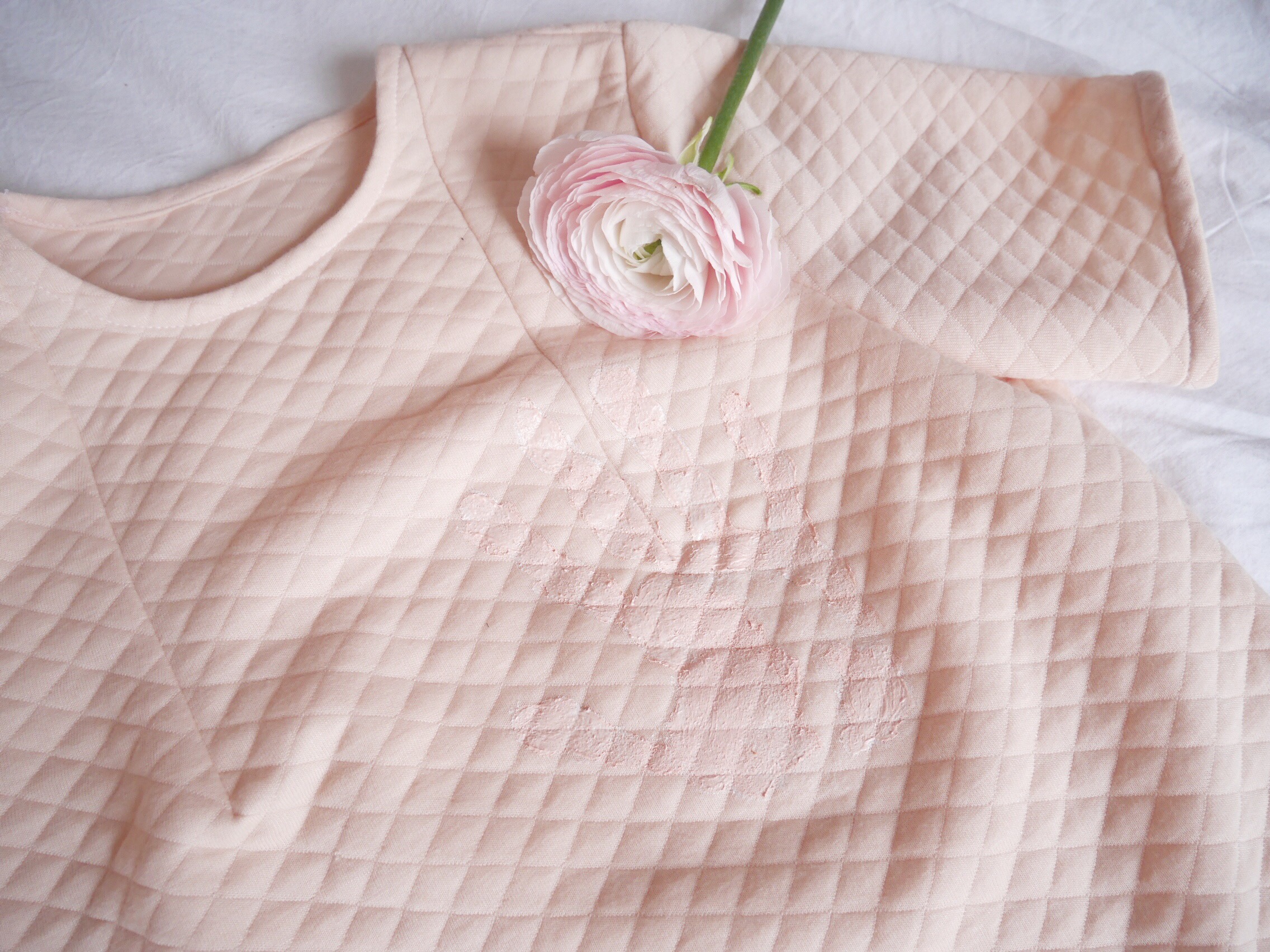 Månadens tema för Monthly Makers var alltså avtryck. Jag gick ju med i MM för att få mer inspiration till modeskapandet och kanske bli lite pushad till att göra mer konceptuella grejer. Jag fick ganska direkt en idé om att göra något som symboliserar vad som lämnar avtryck i själen, och vad som liksom stannar hos oss, vare sig vi vill eller inte. Ni ser mina tidiga tankar hastigt nerskrivna i kollaget.
The topic of the month for Monthly Makers was leaving a mark. I joined Monthly makers to get more inspiration for my fashion designing and maybe get a little pushed to do more conceptual stuff. I got an idea almost straight away to do something that symbolizes what leaves a mark on the soul, and what scars us. You can see my early thoughts sketched in the collage.
Idé / Idea
Jag ville göra ett plagg som skulle symbolisera en kvinnas kropp och sedan visa på hur sexuella övergrepp lämnar ärr, fast de egentligen inte syns. Mycket av detta kom från hur händelserna i Köln fick så mycket uppmärksamhet, fast sexuella övergrepp egentligen händer hela tiden.
I wanted to make a garment that symbolizes a woman's body and then show how sexual abuse leaves scars, though they aren't actually visible. I think a lot of this came from the events in Cologne during NYE that received so much attention, but sexual assault actually being a thing that happens all the time.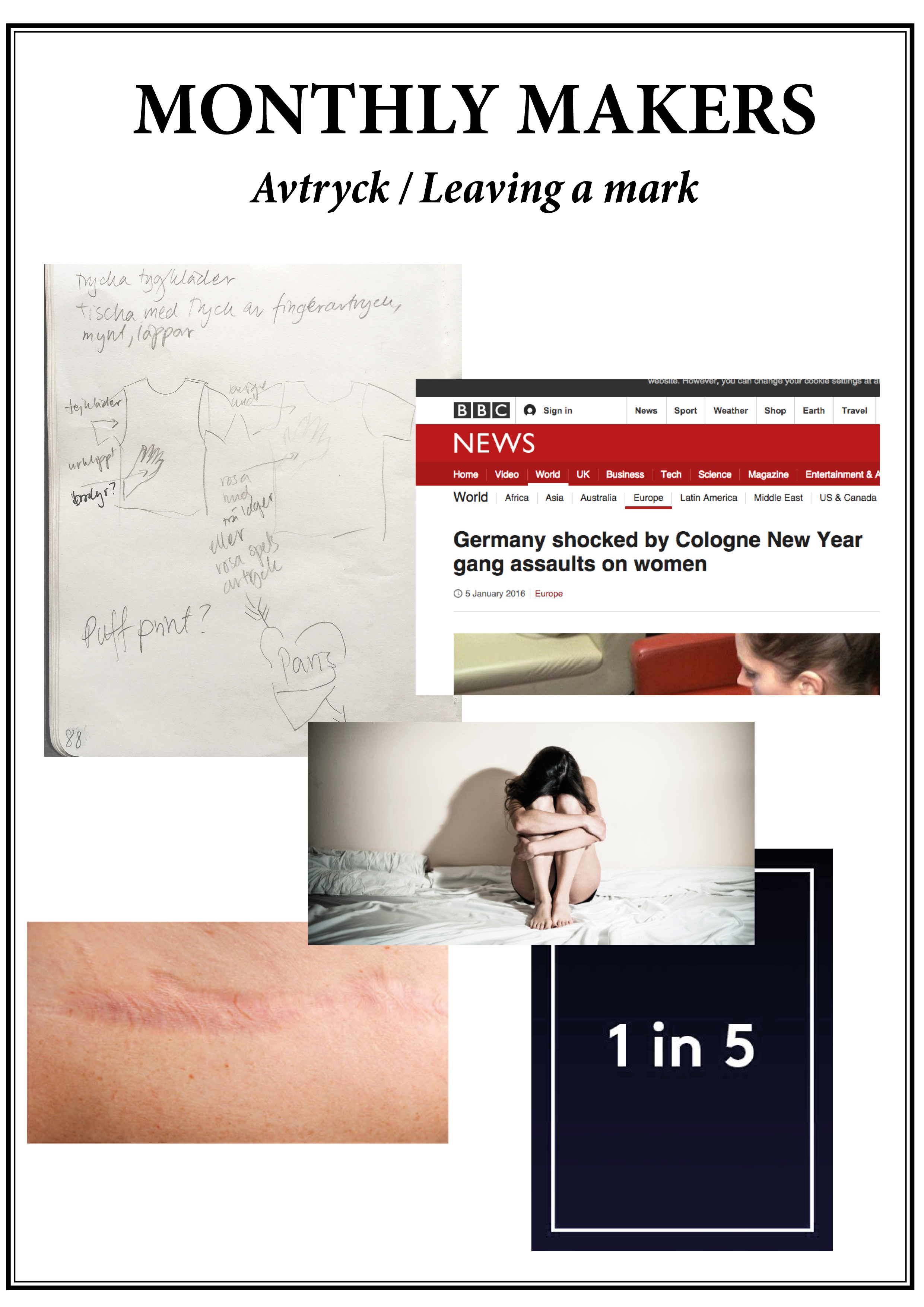 Links: 1 in 5, stats from CDC, BBC News, how sexual assault trauma affects the brain
Processen / The Process
Efter botaniserande på tygmarknader blev resultatet ett nudefärgat, mjukt kviltat tyg som jag sydde ihop till en ganska clean t-shirt och tryckte med 3D-färg och sedan penslade med latex för att få till den ärrliknande känslan. Här följer lite bilder och mer ingående förklaring från tillverkningen!
After going through the textile markets here I chose a soft, quilted fabric in a nude color. I sewed it up into a quite clean t-shirt and printed it with 3D-color and then latex for a more scar like surface. Some pictures from the process and more explaining:
Jag modifierade mitt grundmönster på ett liv som vi gjorde förra hösten på papper. / I modified the basic bodice block we did this fall on paper.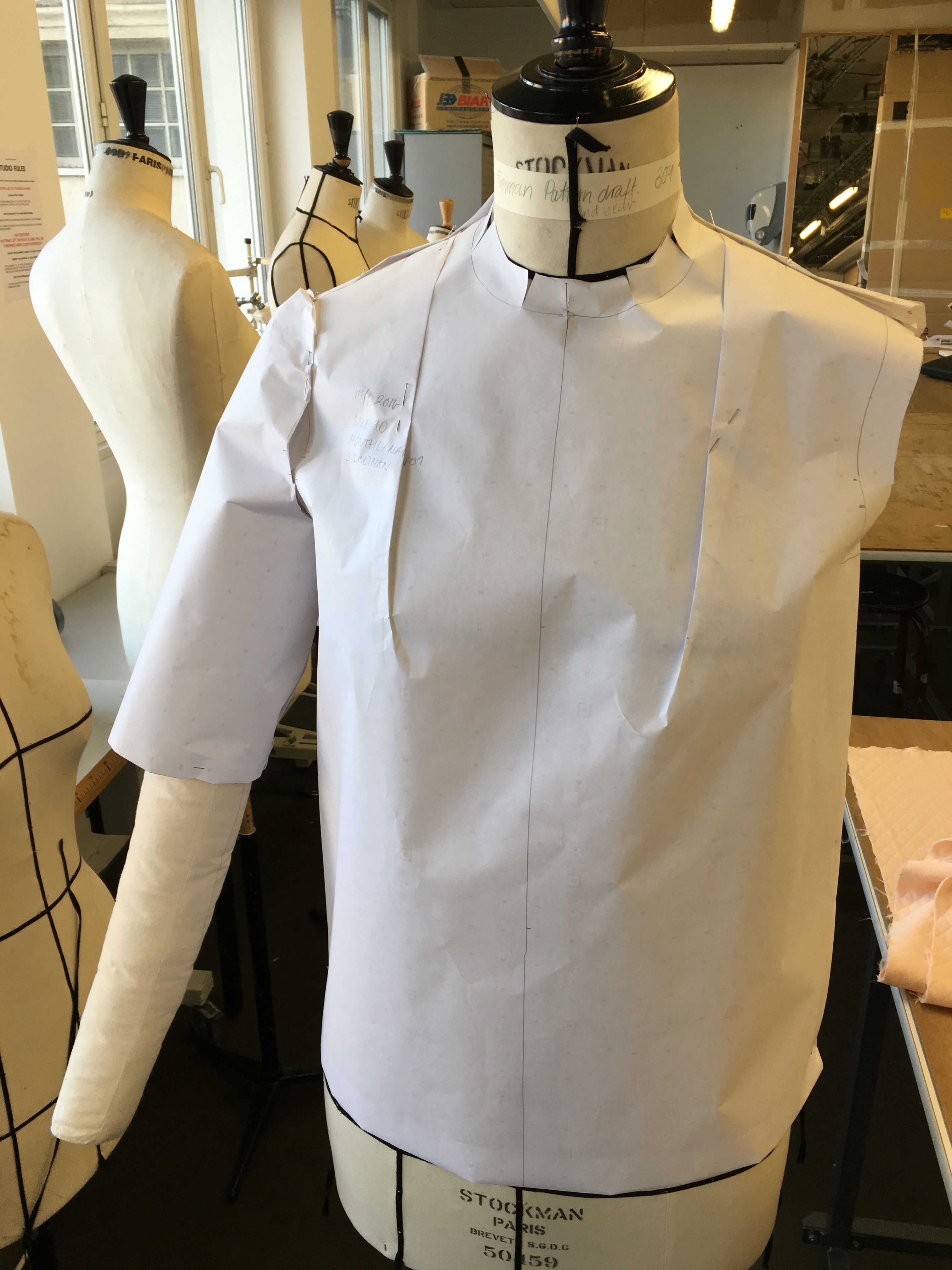 Testade det nya mönstret direkt på dockan och ändrade lite smådetaljer såsom ärmlängd. / Tried it on the form and changed a few of the details.
Jag tror att det tog mig ca åtta timmar att få ihop plagget från att pennan nuddade pappret till färdigt plagg.  / The process of creating the top took about 8 h.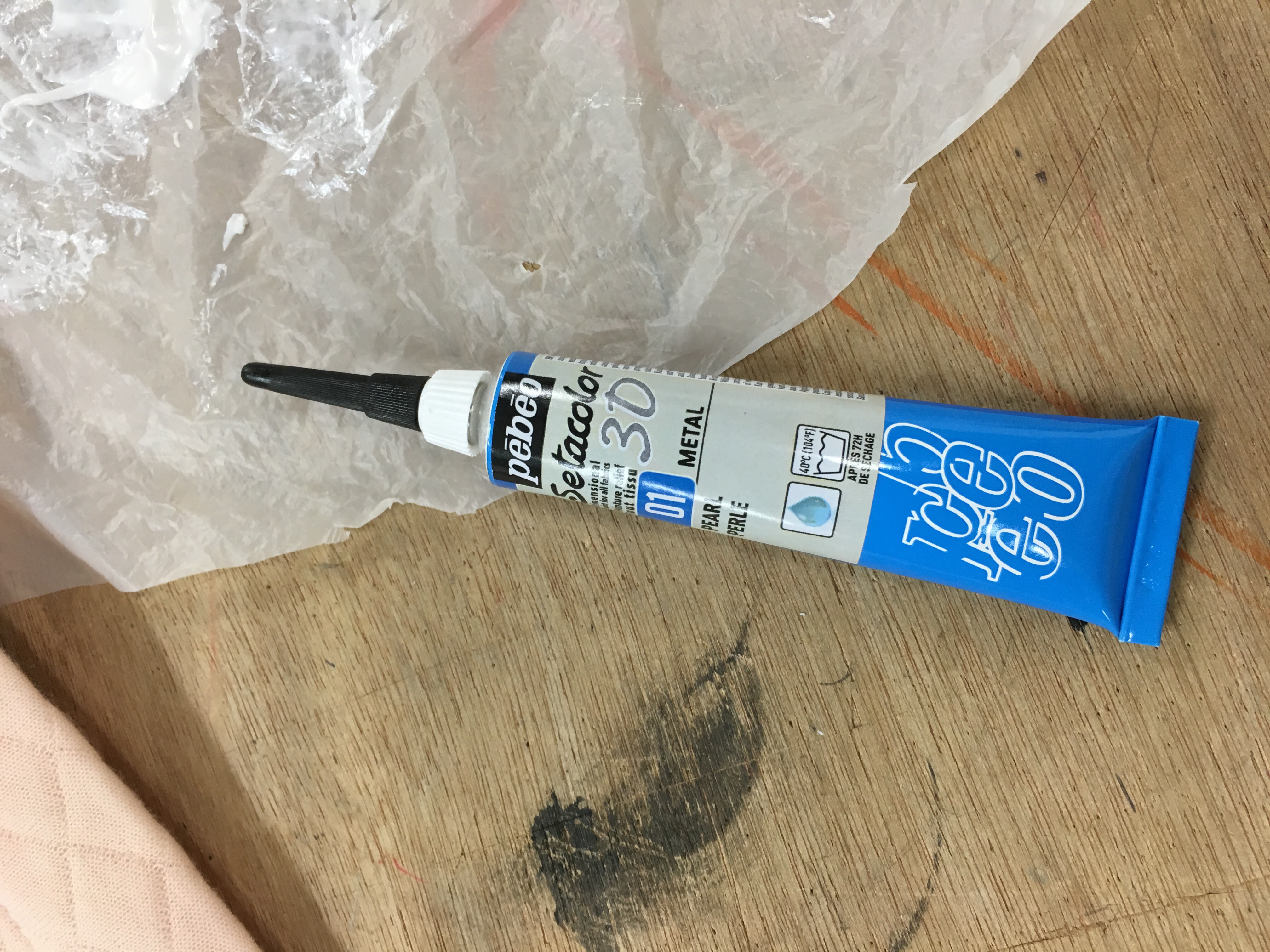 Att få till 3D-effekten var viktigt för mig men svårt. Köpte denna färg som utlovade en pärlemorseffekt. / It was hard to achieve that 3D effect I wanted. First I tried a color that was supposed to be mother of pearl like.
Alltid lite speciellt att kladda ner ett plagg man lagt ner mycket tid på. Blev dock inte så nöjd, färgen vart fel och 3D-effekten liten. / It's always a special feeling to mess up something you put in hours of work on. I wasn't that happy with the 3D effect and the color wasn't right.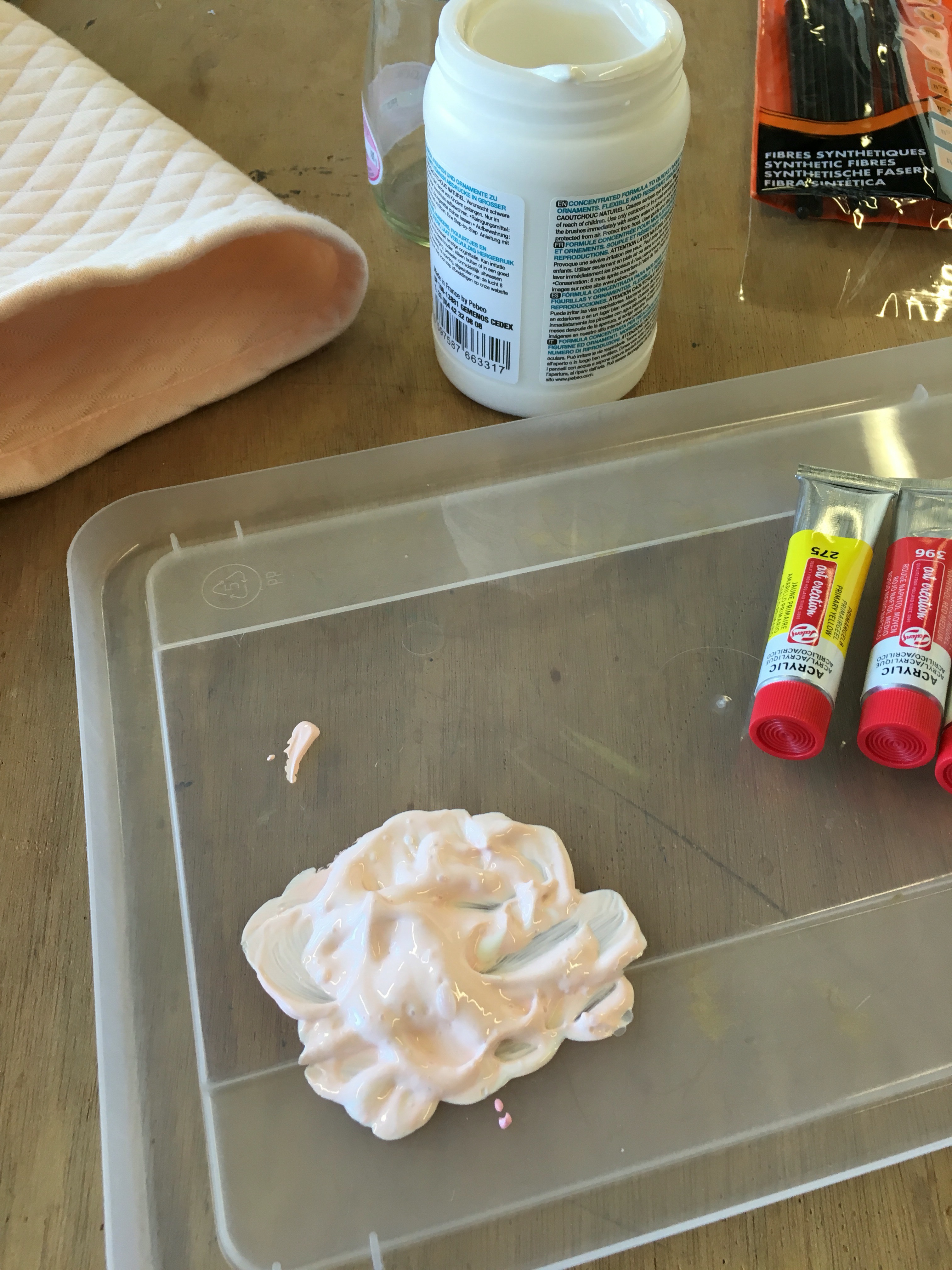 Så jag fick gå tillbaka till konstnärsbutiken och köpa latex istället som jag blandade med akrylfärg till en mer ärrliknande kulör. Tjoho! Latex är kul, men luktar illa och irriterar. Vädra ordentligt om du ska jobba med det. / So I went back to the art shop and bought latex instead and mixed it with acrylic paint to get closer to scar tissue. Latex is a lot of found but smells bad and irritates. Make sure the ventilation is good when you mess around with it. 

Om man följer mig på snapchat brukar jag posta ganska mycket "behind-the-scenes" 🙂 ni hittar mig på sandra_fre. /If you follow me on snapchat (sandra_fre), you'll get a few "behind the scenes" snaps 🙂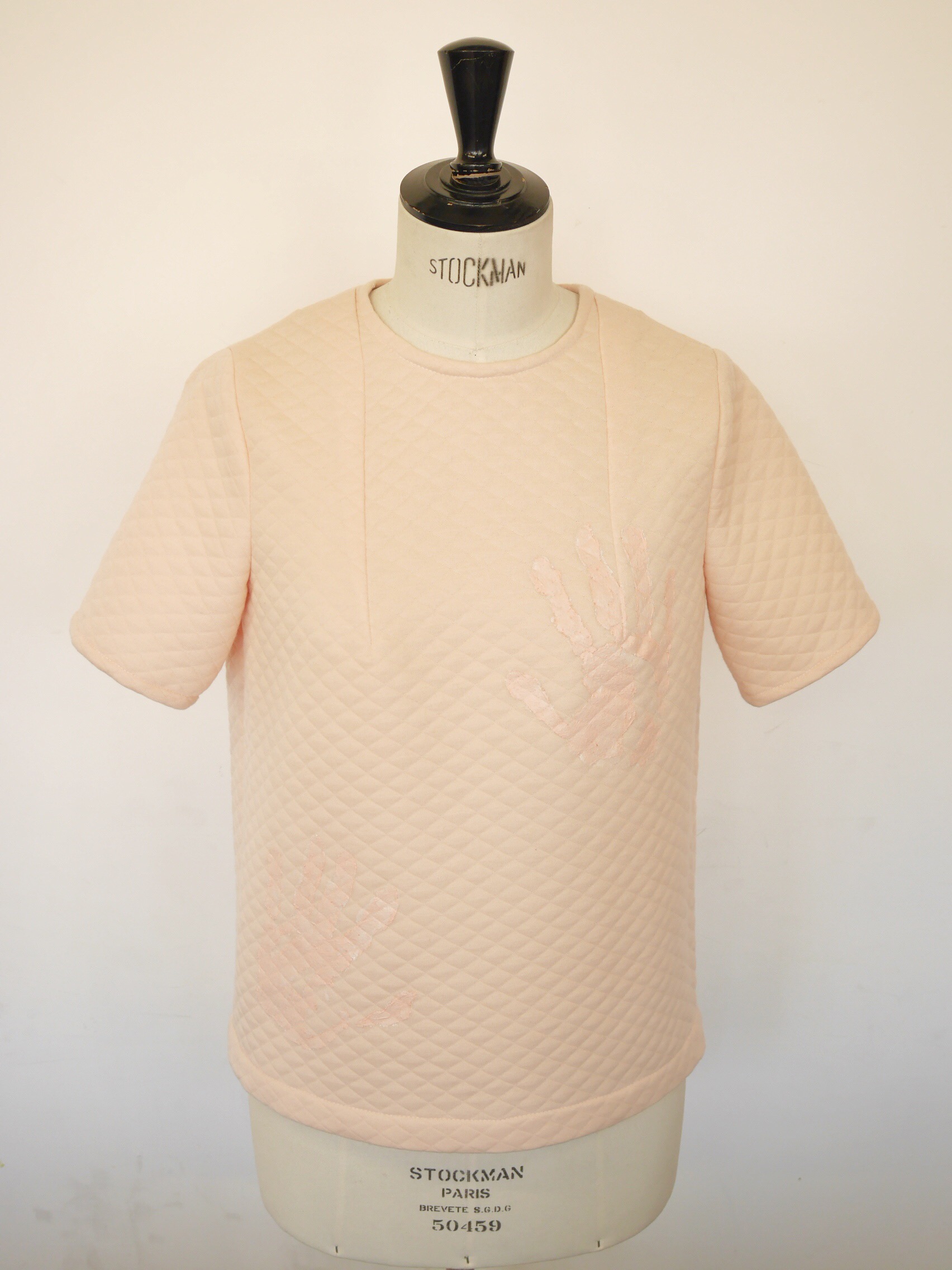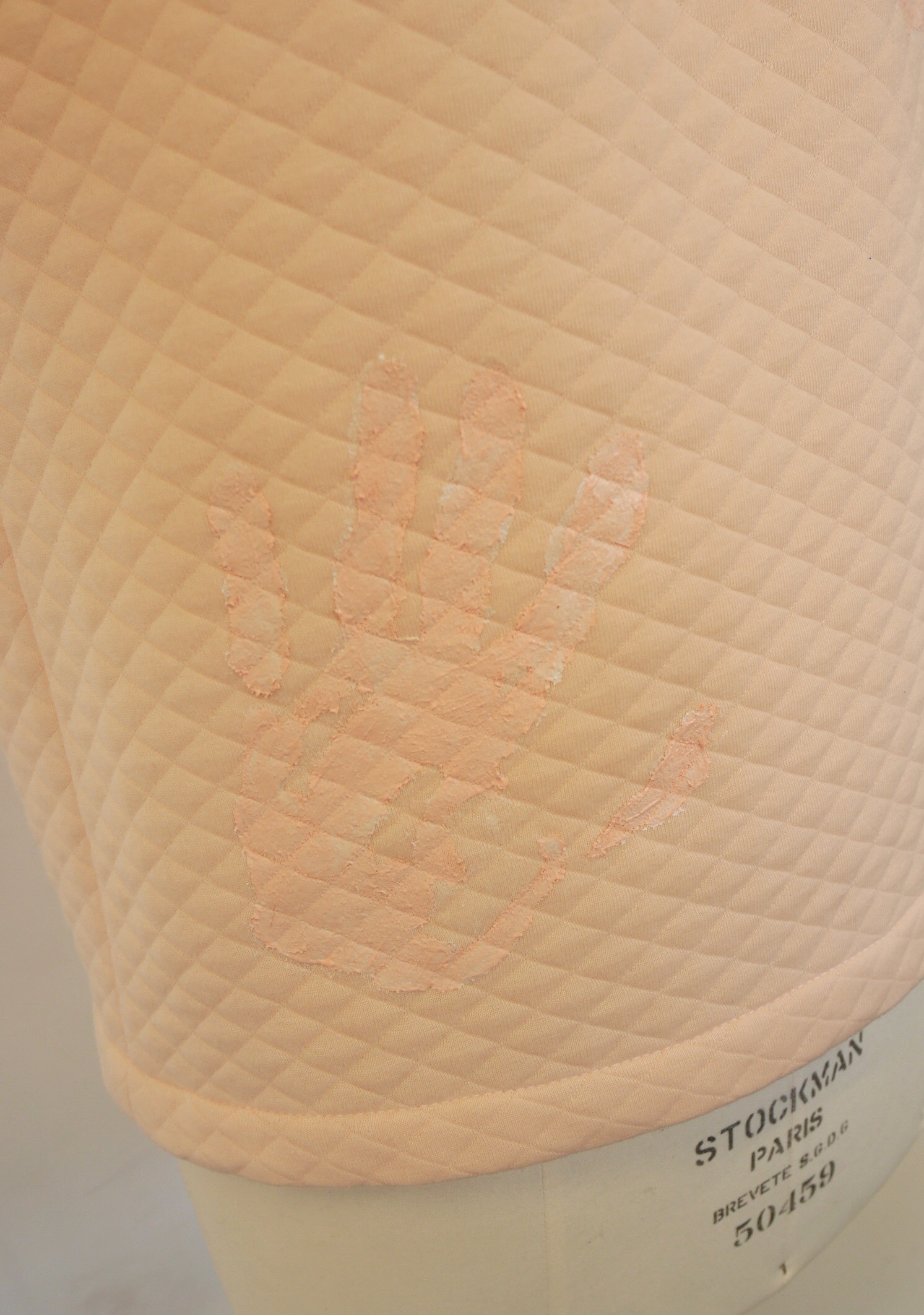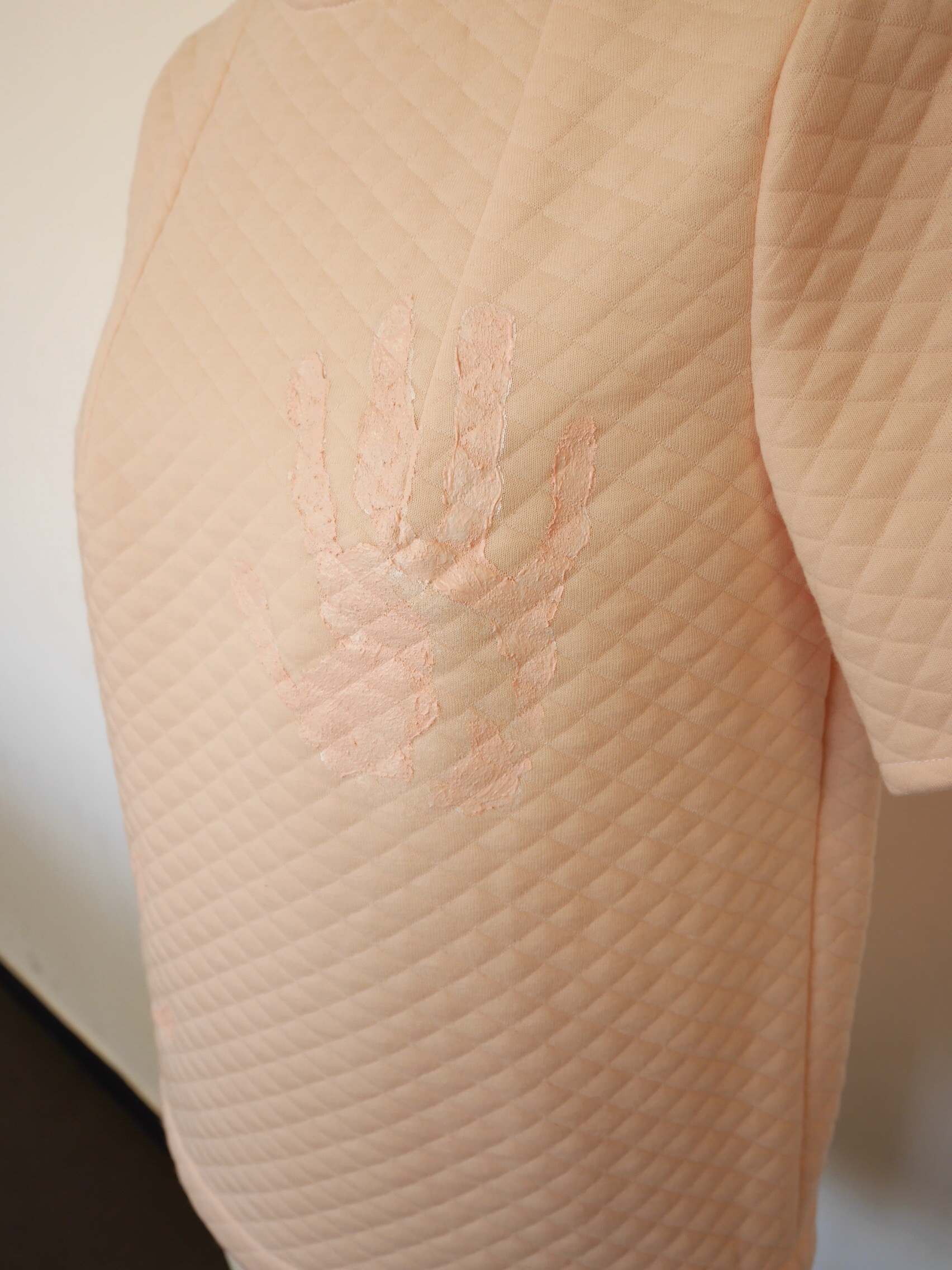 Det färdiga resultatet och närbilder på ärren! Ganska nöjd får jag säga. Ärren är ganska subtila men ändå en ständig påminnelse. Tack för inspirationen Monthly Makers! / The end result with close ups on the scars! Pretty happy with it. Think the scars are pretty subtle but still there and a constant reminder. Thanks for the inspiration Monthly Makers!
0