Yes, nu ska jag ta på mig modeguruhatten här och dela med mig av tips, eller en observation jag gjort under de sex år jag befunnit mig på insidan av modebranschen. Och jag vet, sex år gör ingen Anna Wintour men jag har ändå klarat mig igenom ganska tuffa anställningsintervjuer och jobbat på tre av Sveriges största modekedjor och gjort två internships på lyxmärken här i Paris så något tror jag ändå att jag har att säga. Och idag tänkte jag skriva om de tre saker du behöver för att lyckas inom mode. Här kommer de!
1. Timing
Du kan vara hur grym som helst, ha hur mycket erfarenhet som helst men kommer du till ett företag i fel period så kvittar allt annat. Eller så ansökte typ Karl Lagerfeld om ditt jobb, och vad har du att sätta emot det? Nada. Likaså, du behöver inte ha hur mycket talang som helst eller någon erfarenhet alls - du har kanske gjort praktik där innan och de behöver någon akut nu nu nu: varsågod jobbet är ditt! Det här är enkelt att glömma bort ibland, men det var en av de första läxorna för mig och något jag ständigt får inse gång på gång.
2. Talang
Ja, du måste ha talang för att jobba med mode. Men jag menar inte en medfödd supertalang, det är rätt värdelöst i mina ögon. Människor som har en naturlig fallenhet för något tidigt KAN gärna bli lata och utmanar inte sig själva för de har aldrig behövt smaka på konkurrens eller den fruktansvärda känslan av misslyckande. Dock måste du ha ett uns till talang; smak, färgsinne eller kreativitet och vilja utveckla det lilla unset. Vilja det så mycket så att det nästan blir en frenesi, så att du lägger stor del av din vakna tid på det. Den sortens talang.
3. Aldrig ge upp
Föregående punkt skvallrar lite om denna. Hur många gånger har inte jag misslyckats eller inte fått det där jobbet jag sökte? Massor. Hur många gånger har jag rest mig upp och borstat av mig jag-är-värdelös-dammet? Lika många gånger. Förmodligen kommer jag att få göra det tusen gånger till här i livet för modevärlden är hård. Jag har fått menande blickar, hårda ord från chefer, omöjliga uppgifter lagda i knät och sena timmar gratisjobb förväntade av mig. Jag har stått ut då jag älskat mitt jobb, mina kollegor eller liknande och så länge det negativa försvinner bakom det positiva så är det bara att fortsätta fajtas mot den där lilla guldkrukan/chanelväskan/gucci-skorna/whatevs där regnbågen slutar! *Insert flex-emoji*. Man får ju faktiskt uppleva helt fantastiska saker för besväret, som att gå på guldiga mattan, hälsa på modekungligheter och jobba med det man älskar.
Håller ni med mig om dessa punkter, eller tycker ni jag är ute och cyklar? Lämna gärna en kommentar meed vad du tycker! 🙂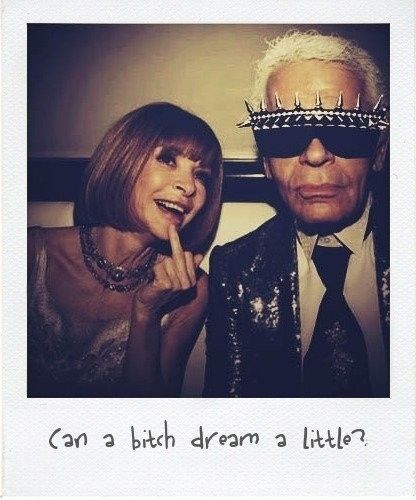 Yep, it's time for me to go all *fashion guru* on ya and share a couple of tips, or an observation I have made during the six years I have been behind the scenes of fashion. I know, six years does not make one an Anna Wintour but I still have made it through pretty tough interviews and worked for three of Sweden's largest fashion chains and two internships with luxury brands here in Paris, so I do think I have something to say. And today I'm gonna huff about three qualities you need to succeed in fashion.
1. Timing
You can be as talented as Michelangelo, have loads of experience but IF you're in the wrong spot at the wrong time nothing of this matters. Maybe Karl Lagerfeld applied for the same job, and what can you put against that? Nada. And on the other side; you might not have any experience at all - but you did your internship there a while ago and they need someone urgent now now now: great, the job is yours! This is easy to forget sometimes, but it was one of the first lessons for me and something I constantly get to face time and time again.
2. Talent
Yes, you have to have talent to work in fashion. But I do not mean one of those inborn super talents, those are pretty worthless to me. People who have a natural aptitude for something CAN easily become lazy and wont challenge themselves because they never had a taste of competition or the terrible feeling of failure. However, you need to have an ounce of talent; taste, a color sense  or creativity AND a willingness to develop that little ounce. Wanting to develop it so much so that it almost becomes a frenzy, it's what's keeping you up at night. That kind of talent.
3. Never give up
Point two forebodes this one a little. How many times have I failed or not been given that job I applied for? Looooaaads. How many times I have gotten back up and brushed off that I-am-useless-dust? Just as many times. Probably I'm gonna have to do it a thousand times again in this life cus the world of fashion is fiiiierce. I have gotten those bitchly looks, harsh words from managers, impossible tasks flopped in my lap and long shifts for free has been expected from me. I endured because I loved the job or I loved my colleagues and as long as the negative disappears behind the positive then you just need to continue the quest for that little gold pot/chanel 2:55/ gucci shoes/whatevs at the rainbow's end! * Insert flex emoji *. You actually get to do quite awesome things in return, like walking the golden carpet, saying hi to fashion royalties and work with something you love.
Do you agree with what I'm saying or do you think I'm way off? Let me know in the comments! 🙂
0